BLOG
New UV, Blue and IR Digital Laser Modules
The PROdigii digital laser modules platform from ProPhotonix has been expanded to include five additional wavelengths addressing a wide range of new applications. This post will detail this range expansion as well as provide an overview of the PROdigii laser module range and highlight some of the benefits of digital laser modules.
New Wavelengths Added
The established PROdigii digital laser module can now be offered with the following wavelengths: 375nm, 405nm laser, 450nm, 905nm, and 940nm. These additional wavelengths in UV, blue, and IR mean that the functionality packed PROdigii can address many additional applications. The 375nm UV digital laser module is suitable for UV curing applications. The blue 405nm digital laser is ideal for both 3D printing and particle measurement. The new 450nm laser is well suited to spectroscopy applications. The additional infrared wavelengths, 905nm and 950nm, make the PROdigii an ideal solution in robotics and gesture recognition as well as LiDAR applications.

The PROdigii Digital Laser Module Range
The PROdigii digital laser module delivers high performance, stability, and control even in challenging operating environments. The new wavelengths are available in addition to the existing 520nm, 638nm, 660nm, and 808nm options. It has a compact cylindrical form factor and is configurable to your application needs. It is offered with output powers up to 500mW CW, 1W pulsed, and various diffractive options including uniform line and elliptical spot. The PROdigii uses a digital RS485 communication interface which provides intelligent control and monitoring. In addition to the applications mentioned above, 3D measurement, high precision alignment, chemical, and biomedical analysis as well as high speed automated inspection will benefit from the high -performance, monitoring, and control offered by PROdigii.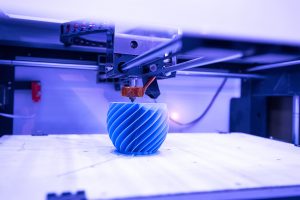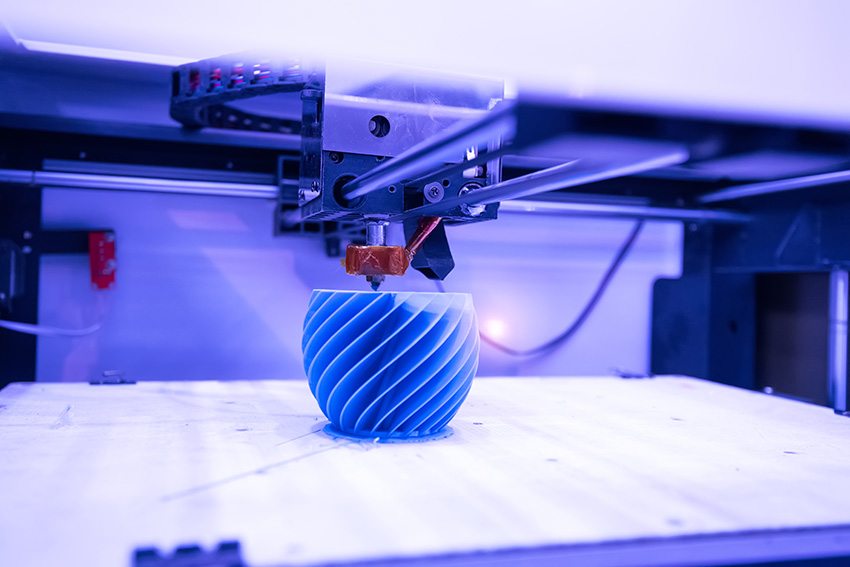 Key Features
Wavelengths: 375nm, 405nm, 450nm, 520nm, 638nm, 660nm, 808nm, 905nm, 940nm
Compact, high performance, digital laser module
RS485 intelligent control and monitoring
Integral thermal management
Uniform line, elliptical sport or diffractive patterns available
Output power up to 500mW (CW); 1W (pulsed)
Benefits of Digital Laser Modules
Digital laser modules are most useful for applications that require enhanced control and monitoring functionality. Often an existing system will also have another digital component, in which case having one control system for all elements is key as it keeps the design concise and increases ease of use. One benefit of using a digital interface is output power control, which leads to enhanced laser diode life. Digital monitoring also allows for preventative maintenance to be scheduled rather than relying on the reactive repair. You can learn more about digital interfaces in our previous blog post on "The Benefits of a Digital Laser Module".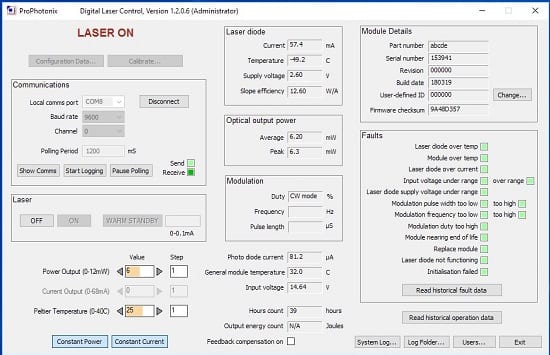 PROdigii Digital Laser Interface
Thermal Management
Thermal management is another benefit of PROdigii digital laser modules. To prevent heat damage, a thermal pathway is needed to ensure heat flows away from the laser diode when lasing. In the PROdigii laser module, a Peltier thermo-electric cooling device (TEC), which is built into the compact form factor, is used to pump out the heat. The superior thermal management provides exceptional wavelength stability and makes the PROdigii ideal for use in challenging operating environments. You can learn more about thermal management in laser modules in our previous blog post "Thermal Management in Compact, High Power Laser Modules".