CASE STUDIES
Multispectral Imaging in Currency Inspection
Industry: Printing
Solution: COBRA MultiSpec
Customer Requirements
ProPhotonix recently partnered with a system integrator developing currency inspection systems used to inspect bills and sheets of bills. Visible, UV, and IR light are all used in currency inspection. For this particular application, the customer required a single, compact illuminator that had visible and NIR infrared in one source. The light was to be used specifically for the identification of taggants. In high-value materials such as currency and even pharmaceuticals and electronics, for example, the use of taggants is common. Taggants can be either absorbing or reflecting taggants and can be UV as well as IR. In this particular case, the system was being designed to inspect infrared taggants.
COBRA MultiSpec
Initially, ProPhotonix supplied a demo enabling the customer to test the unit in their system. Working with the customer, ProPhotonix configured a COBRA MultiSpec to address the application's needs. ProPhotonix' multispectral line light, COBRA MultiSpec, features Chip-on-Board LED technology enabling a compact form factor and can be configured with up to 12 wavelengths from 365nm to 1650nm. A three-color LED line light tailored to this application with two types of white LEDs, and one infrared at 855nm was quickly supplied to the customer.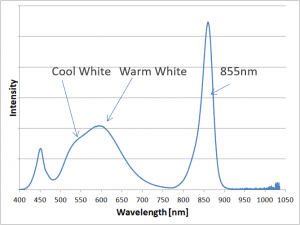 In addition, in order to meet the customer's challenging commercial targets, the electronics were optimized for this specific application. In the end, ProPhotonix was able to deliver a cost-effective solution and improve the customer's overall system performance and affordability.
The Solution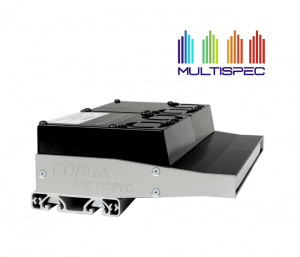 Built using Chip-on-Board LED technology, the COBRA MultiSpec offers a compact solution for multispectral applications. The multispectral  LED line light can be tailored to address a wide range of applications.  System designers can further fine-tune the performance of their system via its user-friendly GUI.