BLOG
Resources Roundup: Multispectral and Hyperspectral Lighting
Multispectral and hyperspectral imaging technology has expanded rapidly in recent years and the range of applications continues to grow. This blog post highlights the range of resources ProPhotonix has available to you to learn more about this new technology including whitepapers, video, and case studies.
Whitepapers:
Our whitepapers are written by ProPhotonix' engineers and take an in-depth look at specific topics.
Illumination in Multispectral & Hyperspectral Imaging Whitepaper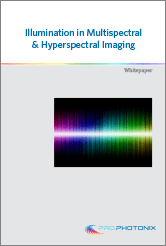 This whitepaper discusses:
Multispectral vs hyperspectral imaging
Image acquisition methods
The advantages of LED light sources
LED light considerations

Multispectral & Hyperspectral Lighting for the Food & Beverage Industry Whitepaper
In applications such as food and beverage inspection, sorting, grading, and analysis; optimized multispectral and hyperspectral lighting is enabling greater efficiencies and accuracy, higher inspection rates, increased throughput, and improved quality over traditional technologies.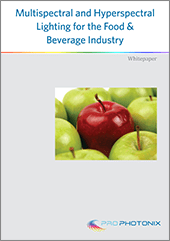 COBRA MultiSpec Video:
See the benefits of our COBRA MultiSpec with its user-friendly GUI in this video:
Case Studies:
Learn how ProPhotonix addressed specific application needs in these case studies.
Multispectral Imaging in Currency Inspection Case Study
Multispectral Imaging in Food Sorting Case Study
Multispectral Imaging in Medical Device Inspection Case Study
Hyperspectral Imaging in Textiles Recycling Case Study
SWIR Hyperspectral imaging in the Pharmaceutical Industry Case Study
With more than two decades of experience designing and manufacturing LED solutions for machine vision applications, and its COBRA MultiSpec and COBRA HyperSpec platforms, ProPhotonix is well-positioned to deliver a multispectral or hyperspectral solution for your application. Contact sales@prophotonix.com to talk to us about your application.