For industrial, medical and security applications, inappropriate or poor quality lighting can often result in longer processing times and reduced throughput. For the more challenging applications, off-the-shelf LED lighting solutions in many instances cannot deliver the performance required to optimize systems, particularly those incorporating machine vision. Often designed for a wide range of applications, these off-the-shelf lights simply cannot deliver the same results as custom LED lights designed for a specific application. This post will look at why you would select a custom solution, the benefits of choosing a custom solution, and why ProPhotonix is well-positioned to design your custom LED light.
Benefits of Selecting a Custom LED Solution
Many organizations recognize that customized lighting with features such as multispectral capability, high-resolution control, and in-line calibration can improve quality, increase productivity, and most importantly reduce costs. When choosing a custom LED solution, an OEM customer has greater flexibility by working directly with ProPhotonix' team of engineers to develop an optimized solution for a specific application.
Optical Design
ProPhotonix has a team of optical engineers that can help select the right optical design for your application. Many applications can benefit from a custom optical design. ProPhotonix can custom design reflectors and lenses to suit the specific needs of your application. We have extensive experience in creating custom LED solutions that utilize multiple wavelengths or non-visible wavelengths such as UV and IR solutions. We can work with any available wavelength and can place wavelengths close together for optimum blending of the light.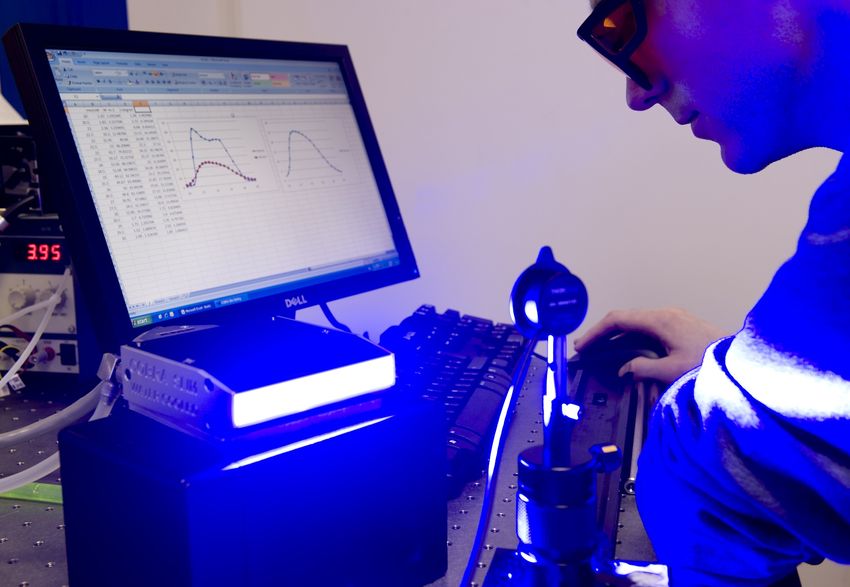 Form Factor
LED arrays are assemblies of LED packages or chips that can be built using several methods. As pioneers in Chip-On-Board ("COB") LED technology, ProPhotonix is well positioned to select the optimum LED technology for your application. COB technology describes the mounting of bare LED chips in direct contact with the substrate. For more information on the advantages of COB technology, see this post on the Advantages of Chip-on-Board LED Technology. By working directly with individual LED chips, these can be placed in very tight or complex patterns to deliver high performance and functionality in compact form factors at a competitive cost.
Thermal Management
Thermal design is a key consideration when considering a custom LED light. ProPhotonix can offer convection, air or liquid-cooled options. As a result, you can decide on the best possible cooling solution to suit your application needs.
Electronic Design
Good electronic design and software are critical to maintaining optimum performance of the overall LED-based system. Electronic design can be used to control the stability, uniformity, and intensity specifications of the output over the lifetime of the light. Additional sensors can also be built into the light to ensure safety and reliability.
Engineering Expertise
ProPhotonix' expertise in mechanical, optical, and electronic engineering allows our team to tackle the most challenging of illumination requirements. ProPhotonix' design process starts with the customer requirements. Our team of engineers works with the customer to ensure that the correct specification is developed. ProPhotonix has ISO-certified production facilities which enable them to produce any custom LED solution to the highest industry standards.
Why Choose ProPhotonix
ProPhotonix has over two decades of experience in designing and manufacturing custom LED solutions. To find out more about ProPhotonix custom LED solutions, download the Custom LED Solutions Brochure.
Other posts you might like...